Veskimetsa 38 commercial building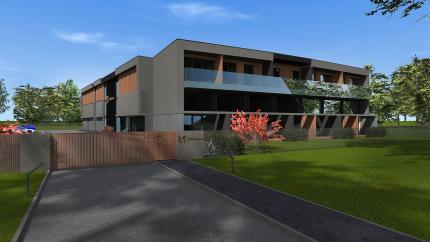 Veskimetsa 38 is in the Kristiine district in Tallinn, between the Veskimetsa residential homes and the Laki business quarter. The building is designed to offer short- and long-term rental properties with terraces and balconies for businesses, their employees, individuals and tourists. The properties are meant for accommodation, office space and business meetings. The interior of the property can be chosen according to the length and goal of the rental period.
The 1st-floor properties have terraces, while the 2nd floor has balconies.
The courtyard will be landscaped and an inspiring outdoor environment will be created where you can let yourself relax or brainstorm.
Every rental property has parking spaces for both cars and bicycles. There is also the possibility to charge an electric car. The courtyard can be accessed via a gate that opens by remote control. The premises have security cameras.
If you are interested in renting, contact us and we will be happy to tell you more.