Endla 58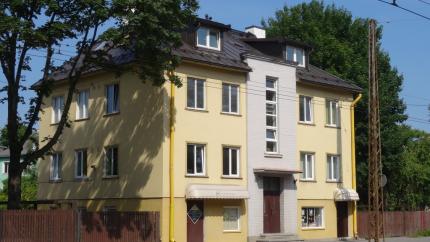 The building at Endla 58 is a so-called Tallinn-style building which was constructed in the 1930s. It was built on high half-metre-wide limestone foundations.
The walls of the building were constructed using timber logs. The central element of the building is its stairwell with a brick parapet which also functions as a firewall. The floor on the 1st storey is made of reinforced concrete, while the upper storeys have floors made of timber framing with noise-reducing wool insulation and sand in between.
The roof is covered with dark brown coated tin which was replaced in 2015.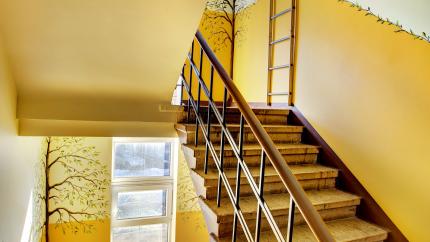 The rooftop apartments were built and the building's facade was renovated and plastered in 2000. The roof was replaced in 2015. The stairwell and all of the apartments have been well renovated.
The building has a separate technical room where you can find fully automated gas heating, which regulates the heating according to the outside temperature. The room is properly ventilated and has gas and smoke detectors that shut off the gas automatically if they detect a leak.
The apartments have hot-water radiators with thermostats that can be regulated. Sanitary rooms have forced ventilation and air vents in the windows or walls. The building is maintained by a maintenance company that takes care of cleaning, lawn-mowing and snow removal.
In the basement there is a beauty salon and a knitting space, so there are always people in the building during the day as well.
There is a landscaped area in the courtyard, offering the chance to enjoy some greenery and privacy in the city centre. There are benches and a table in the garden, so you can enjoy barbecues with friends and neighbours and relax outside.
There is a separate storage room building in the courtyard with 4-square-metre boxes that you can rent. Behind the building is an enclosed and secure car park with gates that open by remote control. Endla 58 is also in a free parking zone.